LSR-TG01 Gluon Laser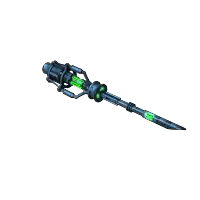 Stats
Damage
25
Damage Per Second
43
Cost
6500 Cr
The Lightest of all Gluons. It delivers damage at a mid rate of fire, but has a mid-range damage to the enemy.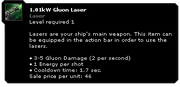 In Thurmalite Wars it is known as the 1.01k W Gluon Laser. It is a great starting gluon, and a great item. You don't need level to use it, because you start on Level 1. This weapon cost about 150 credits, which is relatively expensive starting off.
Ad blocker interference detected!
Wikia is a free-to-use site that makes money from advertising. We have a modified experience for viewers using ad blockers

Wikia is not accessible if you've made further modifications. Remove the custom ad blocker rule(s) and the page will load as expected.